About Us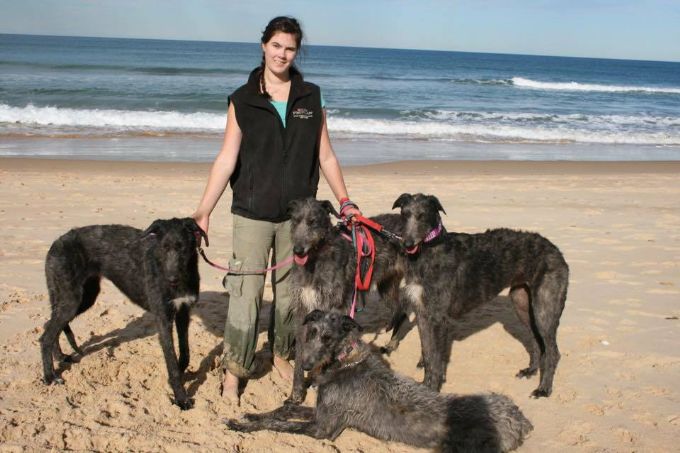 About Us
We are located near the Mornington Peninsula.
Our love of Deerhounds began back in March 2010. I went to a dog show at KCC park and met Glenda Danger and Chris Howard of Bhealaich Deerhounds (now Chris Howard and Richard Kesper). Glenda had 3 hounds in the offlead run (Mono, Harley and Tom). I went over to talk to her about the dogs and she passed Tom to me so she could catch the other two. As i walked Tom back with her and the other hounds, i told her how i was keen to get into the show ring one day and had joined Dogs Victoria recently. She said Oh good, you can show Tom.
​Ever since that day i had shown for Chris and Glenda up till Glenda passed away in 2016.
Back in 2012 Glenda and Chris gifted me my first Deerhound, the foundation for my kennel, Ember (Ch Bhealaich Prettyprecosus) who was my pick of the litter. I have show trained and shown Ember by myself and am very proud of this wonderful bitch.
​In 2014 we had our first litter from Ember by Jax (Ch Bhealaich Quantum Leap). Together they had 13 beautiful pups, 2 of which were stillborn. The keeper pup from that litter was Mirrahcle (Ch Luvadeer A Beautiful Mirrahcle).
​We are so proud of everything Mirrah has achieved in her time in the ring.
In 2017 we took a break from the showring as i had my first and only child Kyrah.
​Kyrah and her love of the dogs is amazing. They love her just as much and this is something i pride myself with.
Contact Details
Aisha Bierman
Frankston, VIC, Australia
Phone : 0451944533
Email :
[email protected]